Shamanic Energy Healing 
Shine the light in your consciousness, and see what is ready to be cleared from your field. Often people will tell of being taken on a journey beyond space and time to be shown messages and guidance from the realm of Spirit.
We start by debriefing with what is happening in your life and where you would like the focus of the healing to be.  The sessions are co-created and guided with Spirit and generally leave you feeling incredibly relaxed. It is common for people to 'knock out' and reboot as the energy transmission is a very powerful infusion of light into your energy field and through your body's systems.  Do not look for yes and no answers in these sessions, but know that you will receive an empowerment to unlock and find the answers in yourself. Each session is different as your consciousness reveals what is ready to be cleared in your field.  
First Session: $350 (3 Sessions minimum) available in Byron Bay, Australia or distant sessions via skype.
Series of 6 sessions: $2000
"Activation" – For the first six sessions, most people are in Energy ER.  After six sessions a person often experiences a beautiful 'aha' moment or awakening.  By devoting this time and energy to your well being you are calling in an activation of awakening.  This is a major recalibration of your thought patterns and motivation and a clearing of old habitual patterns that keep you stuck.  The result is a deeper sense of purpose and well being with clarity on the way forward in alignment with your higher self.
Series of 10 sessions: $3200
"Illumination" – Ten Vision Weaving sessions is for the person who is serious about their own healing and ready to take action on aligning themselves with their higher purpose.  In the course of this work, there is the potential of a radical shift in your outlook and ability to respond to the challenges life throws at you.  Twelve sessions illuminates the path of highest good in alignment with your spirit and clears the energy patterns of discord and disharmony so that your vision of a radiant life is clear and your motivation and resilience is fortified to take action.  Recommended for anybody who is facing a major life crisis.
Speaker / Group Workshops
Sarah likes to empower and inspire an awakening of consciousness working with a group.  These sessions are dynamic and playful and are fully improvised – meeting the energy present in the room.  People comment on the powerful energy and come away feeling inspired to live and fulfill their divine mission and purpose.  
All group work is done with the conscious intention to align each person to the temple of their heart and allow the voice of your inner being to shine forth and guide the way.  The work is co-created with spirit in the moment to enliven and inspire.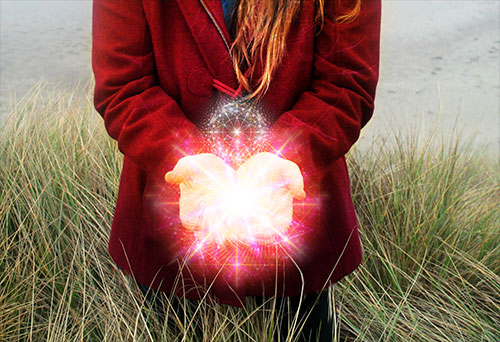 Shamanic House Cleansing –
Time for an energetic cleanse on your space?  Is there sickness in your family?  Are you having bad dreams or aware of bad vibes in a building? Are you starting a new chapter and wanting to 'reset' the energy program in your space.  Is there negative energy or sickness from a previous inhabitant?  Are you trying to sell your house? Is there discord in a relationship at home?  Open the way for your space or business to resonate with a vibrant, healthy, successful energy so that you may live the radiant life you yearn to experience. Sarah will cleanse and bless the space, lifting the vibration of a dwelling. With intuitive guidance for changes that will assist you to create flow and abundance.    Create Sacred Space.
GHOSTBUSTERS
If your space is haunted or the site of much negativity- our team of ghostbusters is here to help you reset your space and align it with your vision!  Our mission is to bring healing and light onto the planet.  Often disincarnate spirits that are stuck in limbo need some encouragement to move on.  Our Ghostbuster team consists of highly qualified shamans and light workers that will bring their tools and go to work on clearing the space and infusing it with love and light.
POA
Remote house cleansing available – photos and address required.
"After a complicated sale, where the buyer backed out, the house sold two days later! And at a higher price than we were asking!"